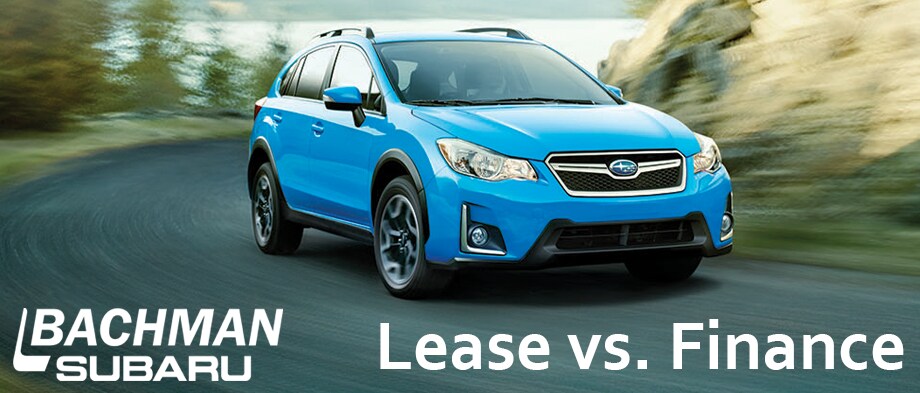 Thinking about a new car? There are lots of different options to consider!
So, you've decided on a trim level, color and more, but now it's time to choose whether to buy or lease. There are advantages and disadvantages to both options.
For more information, call (877) 202-9236. We will be happy to discuss your financial situation and choose the best option for your next Subaru.
Things to know when leasing from Bachman Subaru
When leasing, the payments are usually less per month than buying.

Leasing is better for those who enjoy an Subaru upgrade every few years. But if you love the Subaru you are in, you can decide to buy once your lease is up! You can also walk away and choose something else.

Some lease requirements have restrictions on moving out of state. If you are considering a future move, check the terms of your lease closely and speak with your sales rep regarding questions.

Most leases restrict the maximum number of miles the lessee can drive the vehicle per year, with overage charges for additional miles driven.
Things to know when buying from Bachman Subaru
Whether you finance or lease, while you are making payments the bank owns the vehicle. At the end of your loan, you officially own your Subaru!

When you buy your Subaru, you could pay the full price and purchase the vehicle outright or you could make payments through a loan.

You will have to pay sales tax or other state taxes, government or lender charges, insurance, first monthly payment, a security deposit, prior vehicle loan balances, or a prior credit balance.

Buying a vehicle does restrict moving within the country, but may restrict moves outside the country.
Visit Us at Bachman Subaru Today!
Hours
Monday

09:00am - 08:00pm

Tuesday

09:00am - 08:00pm

Wednesday

09:00am - 08:00pm

Thursday

09:00am - 08:00pm

Friday

09:00am - 08:00pm

Saturday

09:00am - 06:00pm

Sunday

Closed