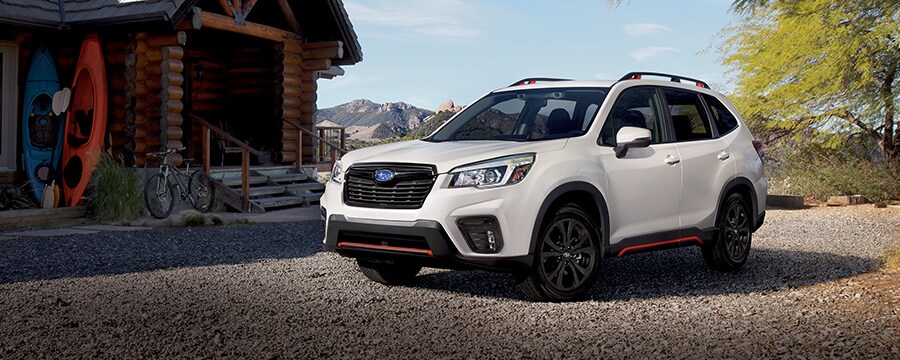 The Subaru Forester is a fantastic crossover vehicle. This is a great choice for anyone who likes the rugged outdoor features but it also handles well for city driving. The Forester features comfortable and roomy seating for all passengers, front and back. They also have plenty of storage space for the family on the go with sports and other activities. And they have a great reputation for safety and affordability.
Overall, the Forester is a good choice for a family car and one that many people who enjoy camping and other outdoor activities tend to prefer.
For 2020, Subaru kept the same great lines and design that their regular drivers crave. But they added to the technology features in a way that's sure to please everyone. You can find out more about the overall performance and design features on specific models. In this article, we're specifically looking at the technology included and available for the 2020 Subaru Forester.
Eyesight Driver Assist Technology
The Eyesight Driver Assist Technology feature comes standard on all Forester models for 2020. This feature includes pre-collision braking to automatically slow your vehicle down prior to impact if the car senses a collision is eminent, which can minimize the damage to the car and passengers and give the driver a few extra seconds to react to the hazards to the road.




The driver assist feature also includes cruise control and lane centering, making long treks and even short journeys more manageable and helping the driver maintain control at all times. Another great feature included with the Driver Assist Technology is lane departure prevention. This feature alerts you when you're veering out of your lane without properly signaling and can help drivers maintain focus and correct some poor driving habits they may have developed which will keep you safer on this journey and for years to come.
 DriverFocus Distraction Mitigation
Subaru worked tirelessly on ways to combat the issue of driving distraction. While laws are just starting to catch up with the distractions that today's technologies have leveled on your every day commute, the Forester developed a new technology to help you stay focused on the road at all times, for a safer commute all around.
The DriverFocus system is set to  your individual preferences and can detect when you're tired or distracted and alert you to the road. This system also maintains a memory for your preferred settings and seating position, which makes your commute far more convenient if you share the vehicle with other drivers.


Starlink Safety and Security
The Starlink Safety and Security features offer you a great variety of ways to maintain your own security on the road, and the security of the vehicle when you're not present. You can access your features from your phone, remote start your car, change the temperature settings, and otherwise prepare for travel. This technology also allows you to alert emergency services if you're ever in an accident and supply them with your location immediately. The Starlink system also include a concierge to help with directions and even setting your reservations.
Starlink Multimedia
The Starlink Multimedia system includes an 8" touch screen that integrates with your mobile device. You can use Apple CarPlay or Android Auto to give you a great wireless, hand free system to use all your favorite apps and features, without ever taking your hands off the steering wheel.
 All Around Awareness Technology
All-Around Awareness includes a variety of features that help keep you safe on the road. These include:
Blind-Spot Detection. This feature gives you a visual cue when another vehicle has entered your blind spot.
Rear Cross-Traffic Alert. This feature is especially helpful when you're backing out of a spot in an area with a lot of foot traffic, such as parking lots and congested streets. It alerts you when people are passing behind your car, if it's in reverse.
Rear-Vision Camera. The rear vision camera allows you a better view to parallel park and otherwise move in reverse.
Reverse Automatic Braking. This feature is available and allows you to automatically brake if the vehicle detects a possible rear collision.
Rear Seat Reminder
The rear seat is a new feature that alerts you to check the backseat for anything you may have forgotten. 
Wi-Fi Hotspot Connectivity
With the 4G LTE Wi-Fi hotspot, you can connect up to 8 devices in your Forester, so you'll never have to worry about staying connected. This feature is especially helpful for professionals on the go and families needing multiple connections for their travels.
Looking for a Great Crossover With All the Latest Technology?
If you're looking for a crossover vehicle that looks great on the road and handles any terrain, the Forester has always been a good choice. With the newest technology included in the 2020 models, it's a convenient and safe vehicle for any type of driver.




Still looking for more information on the Forester's top tech? Check out our video below for a more in depth analysis of these features!