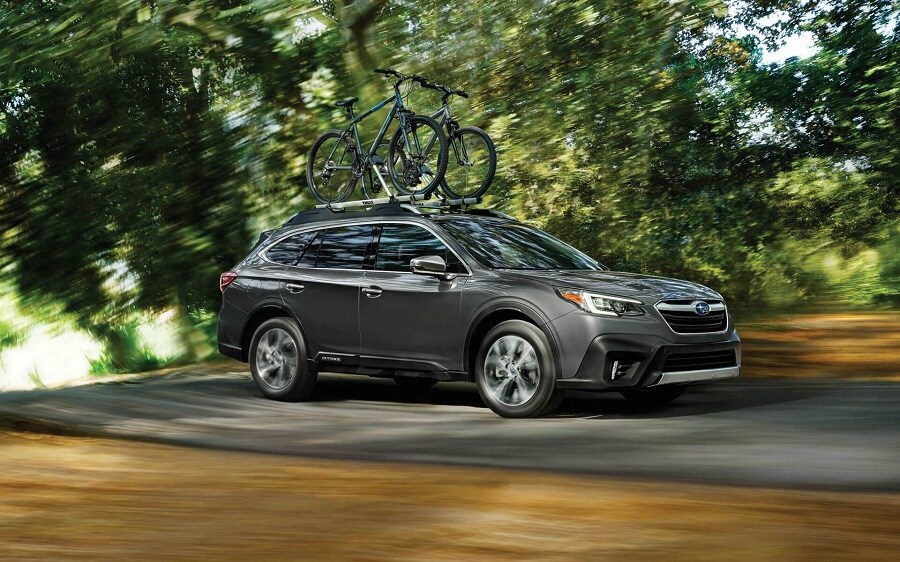 Here at Bachman we are excited to tell you that Subaru has done it again! The updated features, fresh interior, 11.6 inch touch screen, and outstanding safety ratings all come together to make the 2020 Outback the best Outback yet.
2020 Outback Overview
Sporting a stunning combination of style and utility, the 2020 Outback is set to turn some heads. No adventure will prove too challenging, as it comes with all-wheel drive, which is standard across all trim levels. Therefore, when you add this
sixth-generation SUV to your garage, you can set out with confidence knowing that rain, mud, sleet, or snow, you will not be hindered from where you need to go. 
Subaru elected to completely restyle the Outback's cabin space in order to increase comfort and decrease noise. The smooth, quiet ride is enabled by sound-insulated glass, updated weather stripping throughout, 10-way adjustable seats (not standard),  and multi-zone climate control. All of these things make it easy to understand why people love the 2020 Subaru Outback.
2020 Subaru Outback Technology
Wifi capabilities and driver assist technology are standard in the 2020 Outbacks. But what has everybody talking is the tablet-sized touchscreen. Through this 11.6 inch screen you can control every aspect of your vehicle. Climate control, X-Mode, smartphone integration, and more are all available at the touch of a screen.
 2020 Outback Safety
Subaru made safety a top priority for their 2020 Outback. By transitioning to the all-new Subaru Global Platform, they have greatly boosted crash protection at all sides. Eight airbags protect all five passengers from injury. Additionally, their high-tech safety systems provide all the support you need to remain confident and safe on the road.
All trim levels come equipped with:
Four Wheel Anti-Lock Brakes
Brake Assist
Brake Override System
Traction Control System
Rear-Vision Camera
Eyesight
Driver Assist Technology
High Beam Assist
Anti-Theft Security System
Keyless Entry
On the higher-end trim levels you can elect to add other helpful tech, including blind-spot detection, reverse automatic braking, and distraction mitigation systems. All of these features work together to keep you and your family safe on the road.
 2020 Outback Engine Performance
Reliable performance is at the forefront of all that Subaru does and the 2020 Outback is no exception. With two excellent engine options available across their seven trim levels, you can treat yourself to your ideal configuration.
The base model, Premium, Limited, and Touring trim levels all come with the ever-steady 2.5L four cylinder Boxer engine.This flat four produces 182 horsepower and 176lb-ft of torque. This is more than enough to get you around town efficiently. It even up to to 2,700 pounds in towing capacity.
Luxury XT trim levels (the Onyx, Limited, and Touring) have the 2.4L turbocharged Boxer engine option. This 260 horsepower engine ups the towing capacity to 3,500 pounds, allowing you to make the most of every drive.
2020 Outback Design
The Outback has only become more refined through the generations. Stepping into its sixth generation, the body style largely remains the same, just with subtle styling tweaks here and there.
Revamped lighting all around, including all-new taillights, elevates the exterior design, making it look much more sophisticated. An attractive rear window spoiler and robust cladding at all corners also goes a long way in improving the styling of this iconic crossover. Onyx Edition XT features black-finish exterior elements, 8-inch alloy wheels and badging, and an exclusive gray two-tone interior.
Check out the differences between the 2019 Outback and 2020 Outback below. We have also included more information for you on Outbacks and other Subaru models below!