The 2021 Subaru Love Promise Community Commitment Award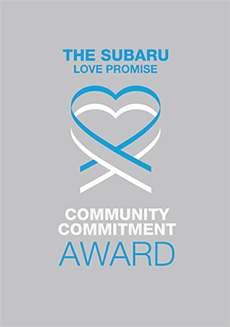 We've been nationally recognized for our dedication to our community and the Subaru Love Promise.
We're honored to receive the 2021 Subaru Love Promise Community Commitment Award. This award nationally recognizes Subaru retailers who are making the world a better place while demonstrating an outstanding commitment to supporting passions and causes in local communities. These efforts are focused in important areas such as the environment, community, health, education, and pets.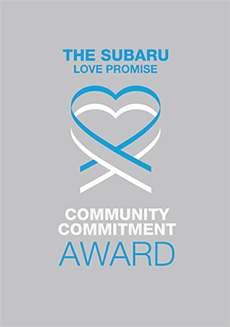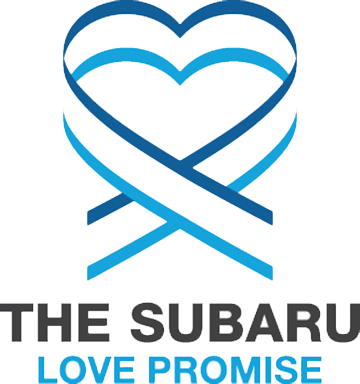 What is the Subaru Love Promise?
Subaru and our retailers believe in making the world a better place and the Subaru Love Promise is our vision of respecting all people. This is our commitment to show love and respect to our customers and to work to make a positive impact in the world.
How is Bachman Subaru dedicated locally to the Love Promise?
Our Love Promise can be seen in various partnerships with local charities and non-profits. We're grateful for the opportunity, not only to be a part of our community, but to serve it as well.
Special Olympics of KY, Dare to Care
Love Promise Stories from Bachman Subaru
Subaru and Bachman Subaru believe in making a positive impact on the communities in which we live and work. We uphold that belief through our Love Promise Community Commitment. Every month, we select inspiring stories from customers and partners from around our area who strive to support our collective commitment and feature them here
Share the Love Continues its Support of SOKY! - Mark B
Special Olympics athletes Dallas Derringer, Caitlin Roy and Justin Harmon accepted a check for $33,219 from our friends at Bachman Subaru and Subaru of America, Inc. This incredible donation is the result of their 2020 Share the Love Event where Bachman Subaru once again included Special Olympics Kentucky as a local option. We are grateful for this support that continues to make possible 15 sports programs, a comprehensive health and wellness program, an athlete leadership program as well as others. Thank you, Bachman Subaru and Subaru of America!
---
Bachman Subaru Helps Make Memories! - JENNIFER M
The donations from Bachman Subaru and Share the Love support 11,000 Special Olympics Kentucky Athletes, like Cory Owens: One of my most exciting memories is when my team won regionals in basketball and we got to go to state tournament that year. I am good at defense so I get to guard the best player especially, the tall ones. Above all, what I like about Special Olympics is that I get to be with my friends and I like being active and getting exercise.
---
Thank you, Bachman Subaru! - JENNIFER M
Bachman Subaru supports Special Olympics Kentucky and makes stories like this possible: One of my most favorite SOKY memory is when I played in my very first basketball game, my whole family came to support me. When the game started they passed the ball to me and my first shot was a 3!! After the game I felt like a million dollars. SOKY has change my life in so many ways, it has boosted my confidence level and it has allowed me to meet and make many other friends and connections that I thought I would never have the chance to make. Katie Williams, SOKY Athlete
---
Donation of the Subaru - Trish S
We have had quit the journey with our donated Subaru Outback that we received in 2017. It has made many trips around all three counties we serve. With so many volunteers helping our agency there are so many deliveries that have been made in the Subaru Outback. Our staff members have enjoyed driving the vehicle for trips other than meal deliveries. Several clients have had the chance to take a trip to the doctor and would not have made it there without the Subaru. This vehicle has been beneficial towards our agency's mission in serving as many seniors as possible throughout our counties. We would like to thank Bachman Subaru and Meals on Wheels for this generous gift that has made so many of our seniors have the opportunity to remain home with our meal program helping them along the way.
---
The Animal Care Society Adoption Event - Alesha H
My name is Alesha and I work at The Animal Care Society. I actually was not planning on adopting for our Subaru and ASPCA adoption event, but Bibo changed everything. One of the great benefits of my job is that I get to bring my dog to work with me. My dog, Noodles comes in and spends every day in my office. Shortly after I started working here, I would bring shelter dogs into my office to give them more human interaction, socialize them with Noodles, and just give them the extra love they deserved. Bibo started coming to my office on September 3rd. Something that he struggled with was eating his food. We noticed immediately that he would eat all of it when he was with me. Even on the weekend when I'm not here, staff would bring him to my office to eat. He started playing with toys and he was overall so happy. We saw huge growth in Bibo's personality, and I soon realized that we were attached to each other. He'd run to my office looking for me on the weekends. Even Noodles pouted and cried when I took Bibo back to his cage at the end of every day. I knew that Bibo was meant to be a part of my family. I had practically everyone in my life come and meet him. I even moved to a new apartment complex that allows 2 dogs. On October 23rd, I finally got to give Bibo his forever home and I officially adopted him. Bibo was originally surrendered to our shelter because he has bad skin problems. He was living on a farm at the time. Between the environment and the pesticides, he was bald. His hair grew back for the most part with medication and medicated baths. He has a few bald patches at itches a lot. He still gets medicated baths once a week and he's on the way to being a normal, healthy dog again. Subaru is extremely special because they help shelters like ours. Bibo was one of 30 animals adopted during our adoption event. For every animal adopted, Subaru and ASPCA gave us $100. That helps provide for so many animals trying to get a second chance. It helps cover medical costs like Bibo's and gives us resources to rescue even more animals. The Animal Care Society is so special because they exist to care for animals in need. They care deeply about animal's well-beings and they go above and beyond to make sure that animals spend the rest of their lives in the perfect home for them. It's great to know that Subaru supports the same mission. They go out of their way to support animals and shelters. Subaru has done so much for us and we're so grateful for them. So many dogs and cats got second chances during our adoption event. Bibo has been the best companion I could ask for, and him and Noodles are adorable "siblings". He sleeps very well at night knowing that he is finally rescued and in his forever home
---
Special Olympics Brings Me Happiness - Ben A
Special Olympics means so much to me because it has given me a chance to be active and participate in sports. I participate in softball, bowling, basketball, and bocce. Special Olympics means meeting new people and making new friends, having teammates, and competing against other teams. Special Olympics has taught me both how to be independent and about teamwork, to have confidence in myself, and it has given me a voice because of the Athlete Leadership Program. It has brought me lots of happiness and new experiences in my life. Thank you Bachman Subaru for helping make all of this possible.
---
Healthy Athletes Are Better Athletes - Trish M
One of the many ways that Bachman Subaru's Share the Love donation to Special Olympics Kentucky benefits individuals with intellectual disabilities is through the Healthy Athletes Program. Healthy Athletes is an extensive health screening and healthy lifestyle instruction program that includes vision, hearing, dental, flexibility and podiatry screenings and teaches healthy eating habits and coping strategies for athletes to deal with stressful or difficult situations. Healthy Athletes fills a care gap for our athletes, as individuals with intellectual disabilities are a medically underserved community. Often, the health screenings reveal moderate to serious health issues that had gone undiagnosed. Screenings are provided at various Special Olympics Kentucky events, including during our State Summer Games, our State Basketball Tournament and during our MedFest events. All are free of charge and are provided by volunteer medical personnel who have also received special training on working with people with intellectual disabilities. Healthy Athletes is just one of the ways that Special Olympics Kentucky changes the lives of those who participate.
---
Volunteers are our heros! - Trish S
Our agency has been through some trying times with COVID bringing our senior center activities to a halt. We had a great number of volunteers already assisting in delivering meals to our home bound seniors, but with COVID brought more homebound clients to our services for home delivered meals. Our governor ordered for all seniors to be able to receive meals from our agency throughout the state with no restrictions on qualifying factors for the Meals on Wheels program. The number of volunteers increased significantly throughout the communities we serve when that moment happened. They have really stepped up at each center to help the staff members deliver to our increased clientele that were asked to stay home due to their vulnerable age range. We have been profoundly grateful and blessed to have such wonderful people giving back in their communities. They have pushed through this pandemic with so much love towards our seniors who have been through so much and need that extra face to see throughout the weeks of isolation. Our volunteers have been true heroes in our agency's mission!
---
Drive Away Hunger - Monica B
This past October, I teamed up with the Bachman staff to help plan the Drive Away Hunger event. I've been a Subaru Ambassador for almost 5 years and this is my favorite local meet to attend. I was honored the team allowed me to help as I love event planning! The Driver Away Hunger meet has been going on for the past 8 years and ever year our donations continue to increase. We were able to donate 782 lbs of food to Dare to Care right before the holiday season. As an Ambassador and enthusiast, there is no better feeling than making an impact while still enjoying time with friends and family. A big thanks to Bachman Subaru for all the love they spread to their employees and community. Customers like myself appreciate all the hard work you continue to do year after year.
---
Bachman Subaru Supports Jeffersontown Elementary - Shannon T
Bachman truly does make the difference, and their impact reaches far beyond the business world. As part of the Subaru Loves Learning initiative, Bachman Subaru partnered with the American Association for the Advancement of Science (AAAS) to make science education more accessible to K-12 students. Bachman Subaru was generous enough to donate 150 award-winning science books to Jeffersontown Elementary School. These books will be distributed to every single classroom throughout the school. We are confident that Bachman's contribution will help inspire young minds to love to learn about the world around them. Our hope is that these kids will grow up to be thankful for the amazing world that they have the privilege of living in, that they will be thankful that they had the opportunity to receive a quality education, and that they will continue the pattern of generosity that Bachman has demonstrated. From the students, faculty, staff, and all the parents, thank you to Bachman Subaru for helping our kids love to learn.
---