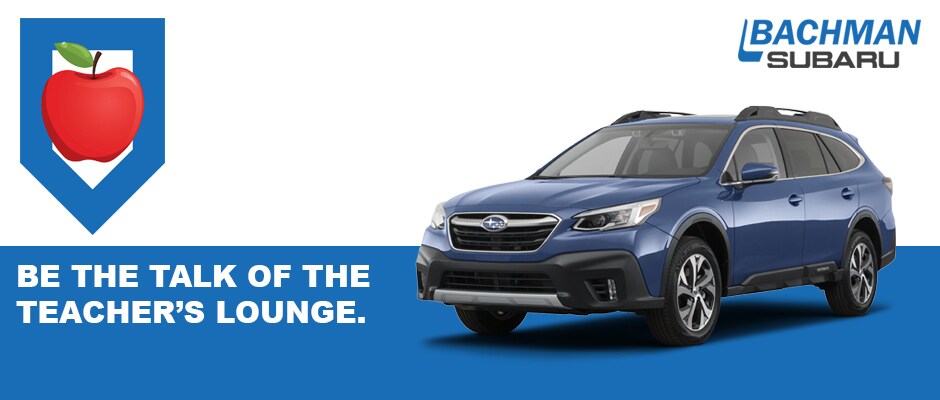 To those who make us who we are, Bachman Subaru proudly offers special pricing for educators. Current employees of a public or private school, university or college are eligible to participate in the Educator Discount program and receive a discount on the purchase or lease of a new
Subaru vehicle.
Eligibility:
Offer is available to current employees of a public school, private school, university or college.

Or eligible participants can sponsor their spouse or children.  

Participants must present the following:

A copy of the Participant's valid school ID/badge or a copy of a current (within the last 30 days) pay stub with all information redacted except the date of the pay stub, Participant's name (payee) and name of the school (payer).

A copy of the Participant's driver's license with the driver's license number redacted.
Discount Details
Bachman's Educator Discount Pricing for the purchase or lease will be a hassle-free, no-haggle price for all eligible clients. You are also entitled to any of Subaru's consumer rebates or special financing offers. The teacher discount applies to new in-stock or even special ordered vehicles.
Must be employed by a public school, private school, college or university.  Some restrictions apply when sponsoring a spouse or child. Please note that employees of state or municipal governments may be subject to restrictions that limit their ability to accept this offer.  Accordingly, this offer is void unless permitted by state and municipal laws, regulations, rules, ordinances, policies, codes of conduct, and other directives or standards regarding ethics and gift acceptance by state and municipal employees.  By accepting this offer, you verify that it complies with all restrictions regarding ethics and gift acceptance that apply to you.