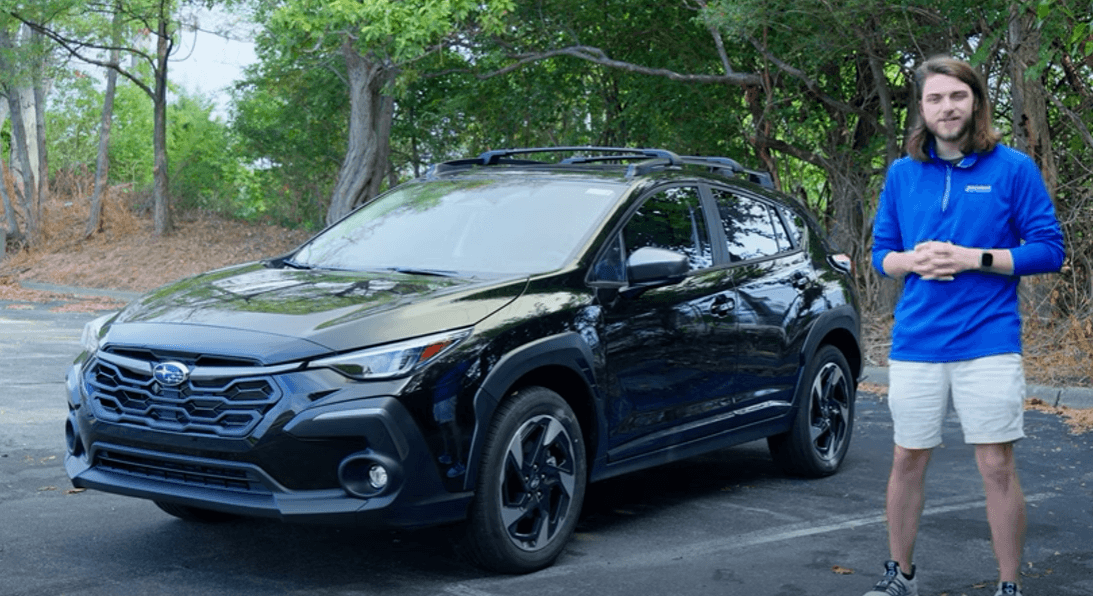 The 2024 Subaru Crosstrek Limited is the latest addition to Subaru's family of compact SUVs, and it comes packed with features and updates that are sure to delight fans of this popular model. This blog post will provide a detailed overview of the 2024 Subaru Crosstrek Limited, from its exterior design to its interior features, and even a test drive experience.
Exterior Design
The 2024 Subaru Crosstrek has undergone a significant redesign, with updated elements and sculpting to keep the model looking fresh. The front end features an aggressive design with sculpted lines and a distinctive grille in gunmetal gray. LED headlights and daytime running lights add a modern touch, while LED fog lights enhance visibility in various conditions. The rugged appearance is characteristic of Subaru's design, with ample plastic cladding and practical features like roof rails and integrated crossbars.
Engine Options
The 2024 Subaru Crosstrek Limited comes with two engine options. The premium trim is equipped with a 2.0-liter engine producing 152 horsepower and 145 lb-ft of torque. However, the Limited, along with the Sport and Wilderness trims, boasts an upgraded 2.5-liter boxer engine that delivers 182 horsepower and 178 lb-ft of torque. This upgrade provides a noticeable boost in performance, making the Crosstrek more engaging to drive.
Interior Features
Inside the cabin, the 2024 Crosstrek Limited offers a comfortable and functional environment. The design is clean and straightforward, featuring leather-trimmed seats with orange accent stitching. The driver's seat is 10-way power-adjustable with two-way lumbar support, ensuring a comfortable driving position. The passenger seat, though manually adjustable, still provides ample comfort.
The infotainment system is a highlight, with an 11.6-inch Subaru Starlink multimedia touchscreen. It includes features like phone connectivity, Bluetooth, wireless Apple CarPlay, Android Auto, and various car information. The system also handles climate control, but it's somewhat laggy, which can be a minor inconvenience.
Driver Assistance and Safety
One of the standout features of the 2024 Subaru Crosstrek Limited is the EyeSight driver-assist system. This system offers a range of safety features, including adaptive cruise control, lane centering, and forward collision warning. It provides an extra layer of safety for drivers and passengers, ensuring peace of mind on the road.
Test Drive Experience
The 2.5-liter engine brings a noticeable improvement in acceleration and power over the 2.0-liter version, making it a more enjoyable drive. The continuously variable transmission (CVT) may exhibit some lag, but it's not a deal-breaker. The adaptive cruise control system is responsive, and the lane centering keeps the vehicle well within its lane.
The 2024 Subaru Crosstrek Limited is a strong contender in the compact SUV segment. Its rugged exterior design, capable all-wheel drive system, advanced technology, and enhanced performance with the 2.5-liter engine make it a well-rounded choice. The driver-assist features provide an added layer of safety and convenience, and the overall driving experience is enjoyable.
Whether you're a fan of Subaru's iconic all-wheel drive capability, a driver looking for a versatile and practical compact SUV, or someone seeking a reliable and comfortable daily driver, the 2024 Subaru Crosstrek Limited has a lot to offer. With its combination of style, performance, and technology, it's worth considering when shopping for your next compact SUV.